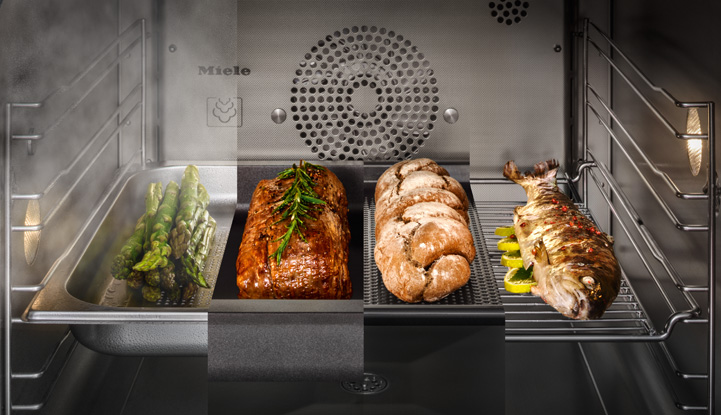 The Miele Steam Combination Oven
Steaming, Roasting, Baking, Captivating.
For a limited time only, receive a premium accessory package worth over £500 with the purchase of you DGC Oven when you purchase from Miele.
View products
Redeem voucher
Highlights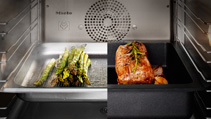 Unlock the magic of combination cooking. For perfect roasting and baking every time.
Combination Cooking gives you the optimal mix of moisture and dry heat to achieve the perfect cooking environment for almost any imaginable recipe–from freshly baked breads to mouth-watering roasts. Freely select between a combination of steam and another baking or roasting function. You can also adjust and change the temperature (40°C to 225°C) and adjust the moisture content at 1% intervals (0% to 100%) as many as six times in rapid succession. It's one more way Miele gives you maximum flexibility–for the best baking and roasting results.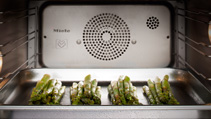 MultiSteam cooking technology releases food's intense, natural flavours.
MultiSteam is designed to enhance your food's rich, natural flavours and colours. It also preserves all of the natural vitamins while avoiding oxidation. The multilevel steam inlet ports cook food quickly and evenly with even temperatures throughout the oven's cavity. The result: delicious, healthy meals.
The Food Probe keeps you in perfect control.
Cook meat, fish, and poultry separately and with precise temperature control: the Food Probe lets you select your preferred core temperature for perfect, effortless results. It shows you the remaining cooking time, which frees you up from constantly having to monitor your dish while it cooks.
Discover our Kitchen Inspiration blog Der Kern
We believe that a kitchen is never more beautiful than when it is being used. Discover inspiration from the world of kitchen design and cuisine.
Discover Der Kern now
Products
Accessory package
Terms & Conditions
The voucher for the complimentary accessory package is included in the on-pack of your Miele Steam Combination oven XL / XXL.
Details
An offer of Miele & Cie . KG
This offer is only valid after purchasing a Miele Steam Combination Oven XL / XXL.
No cash alternative.
Only one voucher per order.
Cannot be combined with other campaigns.
Selling the voucher is not permitted.
The voucher can only be redeemed in the Miele online shop
This promotion will run from 1st January 2018 until 31st December 2018. The voucher can be redeemed in the Miele online shop until 31st December 2019.
Applicable Models
The complimentary accessory package is available on the following selected models, to learn more click on the product name: