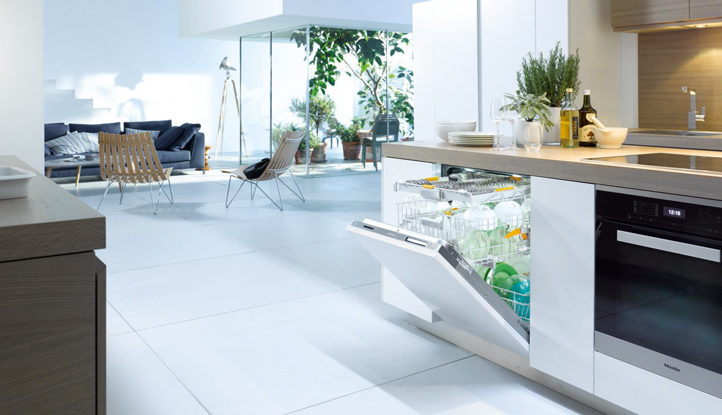 Overview
The Exclusive Dishwashing Collection
5 year parts and labour warranty included on Selected Dishwashers
All Miele domestic appliances come with a free 2 year guarantee as standard which covers parts and labour. However, to stand by the commitment we make to superior product quality, from time to time and on limited products we extend the standard warranty by a further 3 years and offer a 5 year promotional warranty.
You have 28 days from your purchase date to claim for this extended warranty.
To activate the 5 year warranty, please register your appliance here following these steps.
1. Please enter your details on the 'Register for your 5 Year Warranty' button above.
2. You will then receive an automated email once to confirm we have received your application. Your information will then be sent to Domestic and General to process, produce and send your warranty certificate.
A certificate will be sent out to you within 28 days outlining your warranty period. Please keep your proof of purchase safe; as you will be required to show this to a technician should a need for a visit occur.
We know that when it comes to choosing the appliances to compliment your dream home you're only interested in the best. That's why you can trust Miele to look after the things you love.
Our exclusive collection is a selection of our finest appliances with exclusive offers only available when you buy direct from Miele. The exclusive products in Dishwashing are the G6820 SC freestanding dishwasher, G6925 SCi XXL semi-integrated dishwasher, and the G6997 SCVi XXL K20 fully integrated dishwasher.
What's more, these products come with free delivery, and we will even recycle your old appliance, at no additional cost. The freestanding model G6820 SC comes with free installation.
To learn more about the appliances that are offered in The Exclusive Collection, please click the product names or products tab above.
Discover our Kitchen Inspiration blog Der Kern
We believe that a kitchen is never more beautiful than when it is being used. Discover inspiration from the world of kitchen design and cuisine.
Products
Terms & Conditions
Dishwasher promotions
This applies to the G6820 SC, G6925 SCi XXL, and the G6997 SCVi XXL K20 only.
The promotion will run from the 1st February 2017 to the 31st May 2019, applications must be completed by June 30th 2019.
This promotion is only available when the qualifying products are purchased directly from Miele UK.
Purchases made in other retailers and the Republic of Ireland are not included in this promotion.
This promotion is a consumer promotion and is not available to the staff or family of any Miele retailer or Miele employee.
This promotion only applies to new stock and does not include Grade B and C.